"America's Most Vertical City" and "Largest Ghost Town in America". Nicknamed "The City in the Sky," Jerome was at one time the most talked about mining camp in America and is listed on the National Historic Register. Its population went from 15,000 in its heyday to a "ghost town" of under 50 people, to its role today, as a center for the arts with unique shops, galleries, dining and lodging.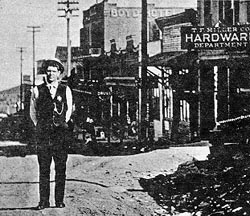 Located high on top of Cleopatra Hill (5,200 feet) between Prescott and Flagstaff is the historic copper mining town of Jerome, Arizona.
Once known as the wickedest town in the west, Jerome was a copper mining camp, growing from a settlement of tents to a roaring mining community.
Jerome sits above what was the largest copper mine in Arizona and produced an astonishing 3 million pounds of copper per month. Men and women from all over the world made their way to Arizona to find work and maybe a new way of life. Today the mines are silent, and Jerome has become the largest ghost town in America.
The Jerome Mine Museum - On Main Street, the museum brings to life the challenges and triumphs achieved during the booming mining era. This scenic view of the entire Verde Valley offers wonderful photographic opportunities.